Bombarded, defeated, I'm all worked up and feeling inadequate and obsolete and nothing good at all.
I'm helping to help to dispel this fear inside you. I can't think of a better way to help you break that fall.
I place your past before me, same old story. I can't see straight. I can't see anything at all.
I don't have anyone but you, narrow hallways. I'm scared to think of what I'd ever do without you.
A handshake to greet you. An open arm to feel you up and down and all around and everything between.
Don't bother, quite frankly, you'll never understand me. That's okay, I'm not afraid to compromise that dream.
News
Vor 1 Stunde
Nena cancelt komplette Tour für 2022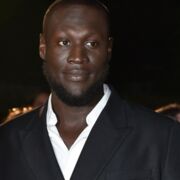 Vor 1 Stunde
Stormzy entdeckt Musiker im Supermarkt
Rod - S.O.S.
Quelle: Youtube
0:00
0:00