Top Bread And Juice Lyrics
Through mountains or just sun
I choose to follow You.
With others on the run,
(ICTFY)
.
When life seems it ain't fun
(ICTFY)
.
And when the good times come
(ICTFY)
.
I'm gonna keep on standin' keep on walkin'
Keep on runnin' to follow You.
It turns to light; the clouds are gone.
My life; it lightens; it turns around.
Your life keeps me strong.
I want to see it all day long.
When I focus on You,
The haze clears; lightening strikes my way strong.
News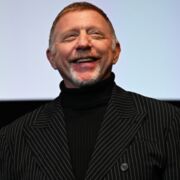 Vor 2 Tagen
Boris Becker äußert sich zu seiner aktuellen Ehe mit Lilly Becker
Vor 23 Stunden
Sandy Meyer-Wölden und die Pocher-Familie pflegen ein gutes Verhältnis.
Bread And Juice - To Follow You
Quelle: Youtube
0:00
0:00