Patience is nothing worth holding onto.
Bite my tongue?
Why should I when you never did that for me?
When were you schooled in technicalities?
I didn't know that I made friends with fucking rock critics.
As the days go by I've forgotten my limbs.
Days pass like we're running out of time.
Show me some scars.
What good is this if I don't remember?
I'm not gonna let myself be concerned with something so distant.
Hold tight, and maybe I will survive.
Hold tight, and maybe some part of me...
Writer(s): D. Vincent Williams, Rob Hatch, Melinda Duncan
Lyrics powered by www.musixmatch.com
News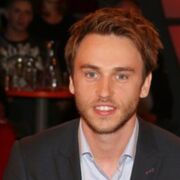 Vor 1 Tag
Clueso: Sechs Wochen in psychiatrischer Kinderklinik
Vor 20 Stunden
"Schämt euch!": Nina Bott ist sauer auf prominente Kollegen
Osker - Patience
Quelle: Youtube
0:00
0:00