All day long
I've sat here for
Again I find my way
Let the ride still go on
But will I see your face
[Chorus]
But now is the time
We will survive
To see the light of another day
But now is the time
We will survive
To see the light of another
Days go by
What can I do?
What can I do for you?
And in the end
What will there be
And how much breath of me
[Chorus x3]
Writer(s): Charlie Parker
Lyrics powered by www.musixmatch.com
News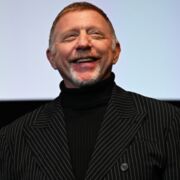 Vor 2 Tagen
Boris Becker äußert sich zu seiner aktuellen Ehe mit Lilly Becker
Vor 23 Stunden
Sandy Meyer-Wölden und die Pocher-Familie pflegen ein gutes Verhältnis.
1.

Darko

2.

Carpenteria

3.

Always There

4.

Now's the Time

5.

Sleep In

7.

Simon's Quest

9.

We Were Young

10.

Hello Stupid

11.

Down Hill

12.

Drive to the End
Slick Shoes - Now's the Time
Quelle: Youtube
0:00
0:00