We blew the doors didn't we?
Pissed in their champagne
And did a real thing didn't we?
Gave ourselves a name
And peeled away the shame
I wanted to explode
To pull my ribs apart
And let the sun inside
Red stain blossoms
And all you have is kisses
And when the sunshine
Throwin' me a lifeline
Finds it's way into my room
All I need is you
We called that love
All you have is kisses
And all I need is you
Writer(s): MARK POTTER, CRAIG LEE POTTER, PETER JAMES TURNER, RICHARD BARRY JUPP, GUY EDWARD JOHN GARVEY
Lyrics powered by www.musixmatch.com
News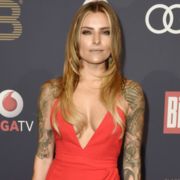 Vor 1 Tag
Sophia Thomalla: Das ist die Neue ihres Ex
Vor 2 Tagen
Fiona Erdmann: Angst vor weiterem Nachwuchs?
Album Cast of Thousands (2003)
Elbow
1.

Ribcage

4.

Snooks (Progress Report)
Elbow - Ribcage
Quelle: Youtube
0:00
0:00