X-Perience - Leave Me Alone Songtext
Refr.:
I don't want to be alone
Don't leave me tonight
Come on hold me tight
Oh, baby don't leave me alone
I don't want to
Explain my feelings to
You, my friend
'cause you'll never understand
In just want to
Be in your arms tonight
I don't care
If I'm wrong or if I'm right
Refr.
The morninglight
Will take love away
Stay with me
Till the breakin' of the day
Hold me now
Baby,don't leave me tonight
Love will die
In the golden morninglight
Refr.
(3 mal)
Lyrics powered by www.musixmatch.com
Im Trend
Vor 1 Tag
Pietro Lombardi: Enttäuscht über 'DSDS'-Rauswurf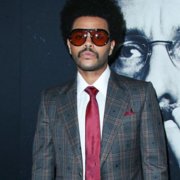 Vor 10 Minuten
The Weeknd und Roddy Ricch treten bei den MTV VMAs auf
1.

Intro

4.

Leave Me Alone

7.

Land of Tomatoes

9.

Rain

11.

Secrets

12.

Daydream, Part II