Top University of California Marching Band Lyrics
1.

By the Old Pacific's Rolling Water (Bowles Hall Drinking Song) Text
By the Old Pacific's Rolling Water (Bowles Hall Drinking Song) Songtext
By the old Pacific's rolling water,
Loyally we stand each son and daughter,
Hail the emblem of our alma mater,
Mighty Bruin Bear.
"bridge"
California hail your warriors marching to the fray,
They go forth to win more laurels
For our name today.
"verse"
Bruin Bear let loose they thunder,
Victory's flag unfold,
Rend your enemies assunder for the Blue and Gold.
Lyrics powered by www.musixmatch.com
News
Vor 22 Stunden
Der Wendler: Er kommt zurück!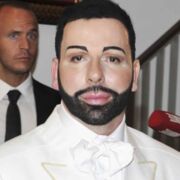 Vor 2 Tagen
Harald Glööckler: Neue Frisur extra für's Dschungelcamp
1.

The North Tunnel

2.

Big "C"

3.

Sons of California

4.

California Indian Song

5.

Fight for California

6.

America the Beautiful

7.

The Star Spangled Banner

8.

The Stanfurd Jonah

9.

The Golden Bear

11.

Sons of California (Chorale)

12.

Make Way for the Bear

13.

California We're for You

14.

Roll On

15.

Cal Band March

16.

California Drinking Song

17.

Palms of Victory

18.

All Hail, Blue and Gold

19.

California Marching Song

20.

One More River

21.

By the Old Pacific's Rolling Water (Bowles Hall Drinking Song)

22.

Hail to California Fanfare, Lights Out March

23.

The Time Warp

24.

Another Star

25.

Make Me Smile

26.

Make Me Lose Control

27.

More Than a Feeling

28.

Let It Be

29.

Semper Fidelis March

30.

What I Did for Love

31.

In the Mood

32.

The TV Show

33.

Don't Let Me Be Misunderstood

34.

A Toast to California
University of California Marching Band - By the Old Pacific's Rolling Water (Bowles Hall Drinking Song)
Quelle: Youtube
0:00
0:00